PROFESSIONAL WEDDING LIVE STREAMING
Nick Bunton is an Essex wedding videographer. Wedding live streaming videography has become very popular since the start of the COVID 19 pandemic which we are currently facing.  With the limited numbers allowed at weddings, it's very hard for couples to decide on who will be there! In addition to this, there may be family and friends overseas, unwell or possibly some who cannot attend as the risk is too high…
Using our wedding live streaming service is a great way to include all those who cannot physically attend to share the moment with you live. We make this as easy as possible for all and product high-quality live streaming videos.
LET US LIVE STREAM YOUR WEDDING
LOOKING FOR INTERACTIVE LIVE STREAM?
Ask us about how we can offer you interactive live streaming in place of one way live streaming, or concurrently!
Nick Bunton Studios offer a professional wedding live streaming service in Essex, London, Kent, Suffolk and the whole of the Southeast.
Now your friends and family that are unable to attend in person can at least be with you virtually. 
With our live streaming services we can broadcast your wedding around the world during this testing and difficult time. Filmed on the latest cameras and by our highly experienced videography team. We also use professional grade sound and lapel microphones so every word is heard perfectly.
AMAZING
Nick honestly couldn't have done anymore and we are forever thankful for capturing such amazing memories that will live with us forever. I honestly can't recommend him enough, I thought he was absolutely brilliant.
VIKKI + DAVE
How Wedding Live Streaming Works
We use multiple cameras and as well as your wedding being live streamed it's also recorded. You'll have your ceremony to watch back and share as you wish.
There are two main reasons why live streaming your wedding has become almost a necessary option. You may have a family member or close friend that is ill or abroad and unable to travel. Also with Covid 19 guest numbers are most likely limited. You may also have elderly relatives, who are uneasy about the risk of social gatherings. Live streaming means your guests can virtually attend your wedding without risk to their health or the health of others. 
We are one of the few companies that can provide professional interactive live streaming using Zoom. You can just use Zoom, or you can use Vimeo as the main live stream and we can concurrently stream the same footage into Zoom for your closest family, we can broadcast this onto a large screen and even allow you some private time at the end of the ceremony to interact with your Zoom attendees. What to know more, please contact us below.
Why wedding numbers are so limited, share your wedding ceremony, speeches and first dance with loved ones who cannot be there.
Our Professional Live Stream Weddings Include
Single or multi camera set-up
Professional wireless microphones
Professional high-end HD cameras
Experienced creative videographers
Private viewing link in advance
Unlimited virtual guests
Edited copy of your wedding live stream video
Wedding ceremony, speeches and first dance options
Our Live Streaming Technology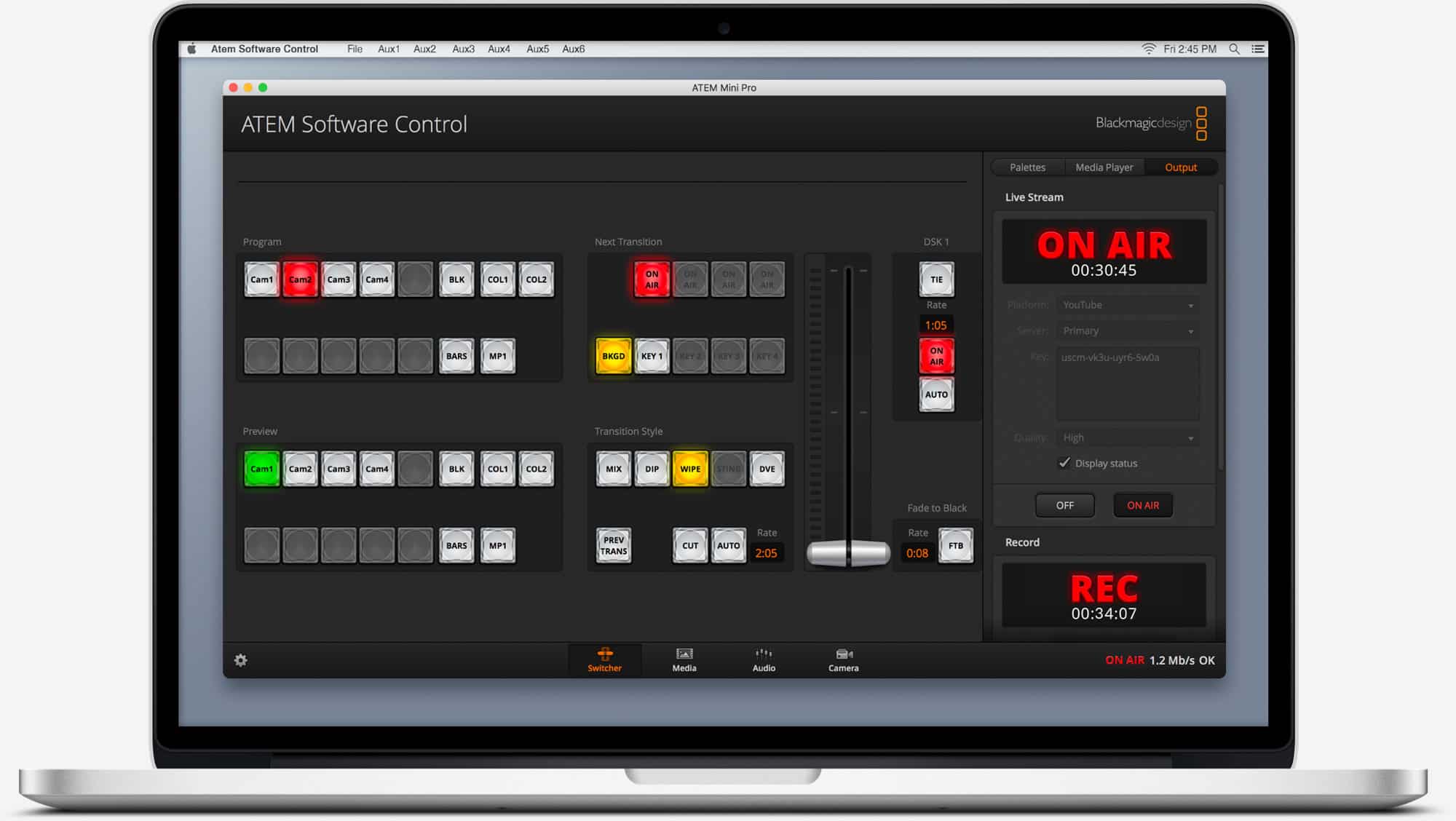 Multi Camera Switcher
We use the BlackMagicDesign Atem Mini Pro switcher which allows us to stream with up to four cameras or three cameras and a device for inputing graphics, slideshows or any other media content.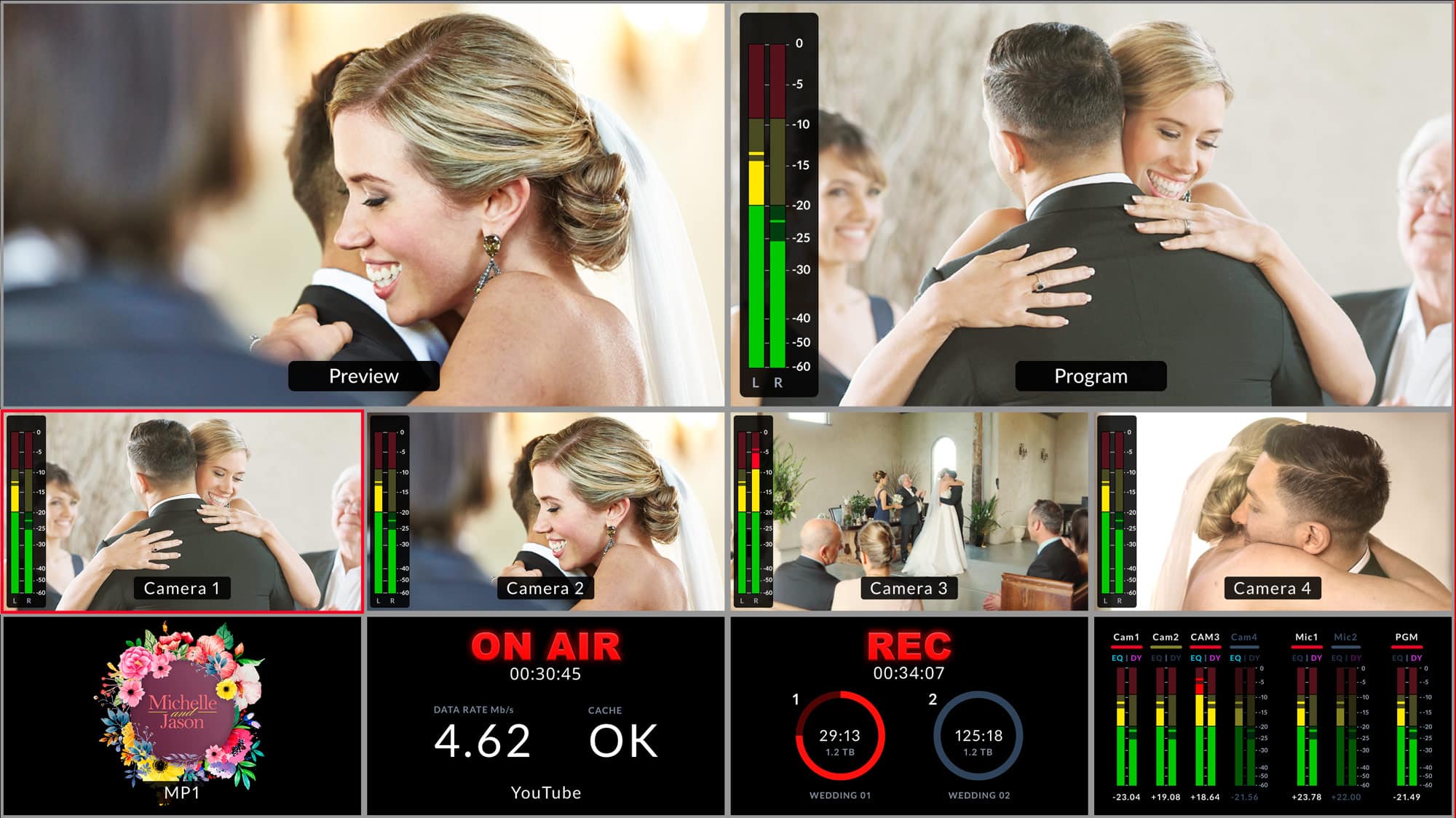 Multi View Monitor
This view gives us an instant overview of which input is being broadcast, what we have selected for the next view including a view from every connected device. We also can see the selected graphic, the upstream health and speed and an overview of the audio levels.
Audio Monitor
This view of the audio, not only allows us to see a full overview of what's happening but gives us so much control over the inputs, levels, mixing and EQ etc. This is such an important view as the audio is an extremely important element of video.
Rode Wireless Audio Kit
This is one of the audio kits we use to capture the clear digital words from the curate or anyone doing a reading or eulogy.
4G Network Bonding
Our LiveU Solo 4G bonded network modem/encoder is a very specialist part of our kit, in fact, its a small version of what mobile TV crews use. This is what allows us to live stream from remote locations were any single network doesn't have enough upload speed for video. This device makes use of four separate networks we use. Even with each being low, the data packets are sent into the cloud and encoded together in real-time to forward into our Vimeo live streaming service.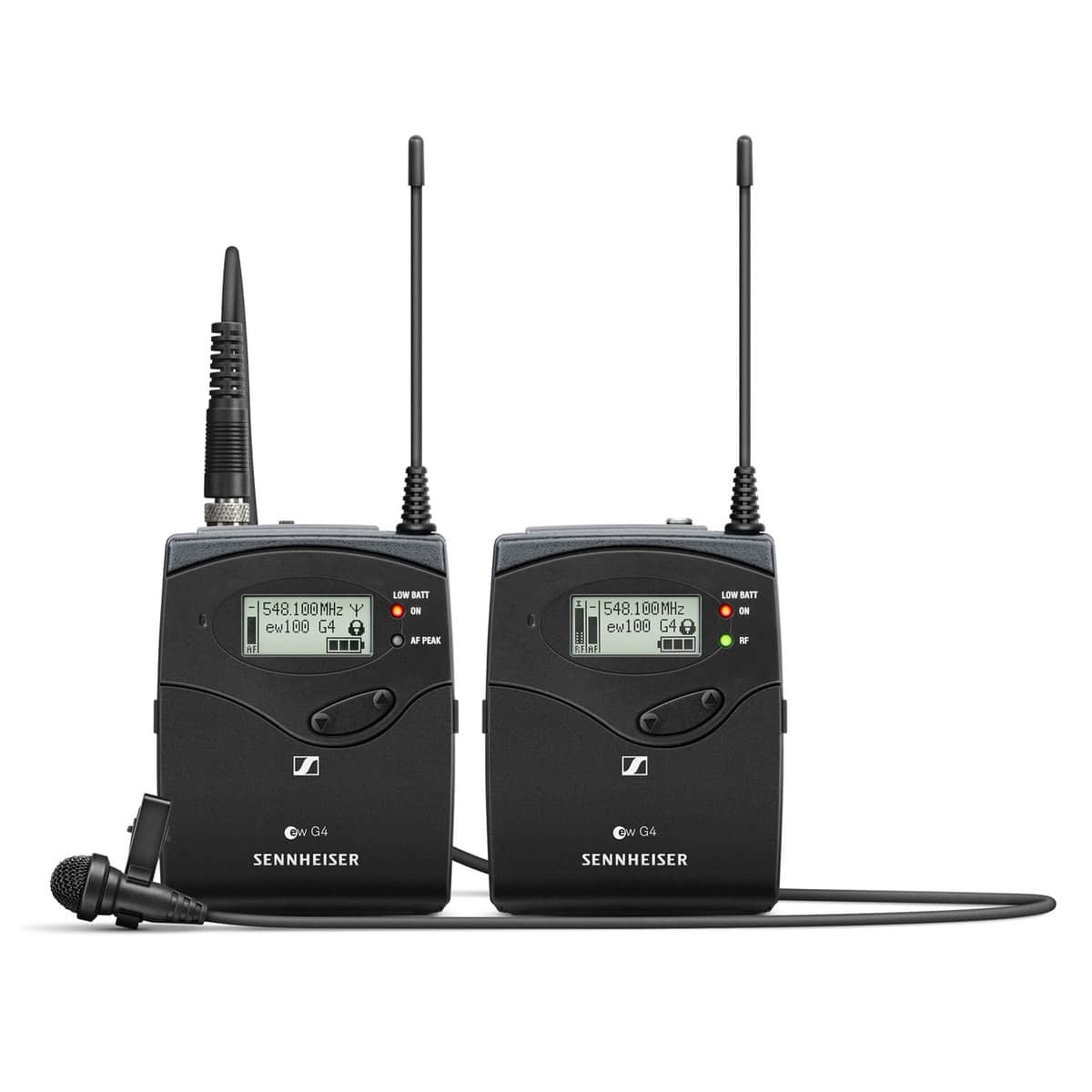 Sennheiser Wireless Audio Kit
Another one of the audio kits we use to capture the clear digital words from the curate or anyone doing a reading or eulogy. We need more than one as there is generally always a reading we need to capture the audio for.
WEDDING LIVE STREAMING PRICES
FOR WEDDINGS UP TO ONE HOUR
Prices include time for setup, commencing the live stream 5-10 minutes ahead and packing away.
Single active HD camera live streaming – From £399
** These options are available when we have 60 minutes of setup time and space for the equipment **
Two HD cameras live streaming, one static and one with videographer – From £499
Three HD cameras live streaming, two static and one with videographer – From £575
Zoom two-way interactive wedding live streaming from £599 (contact us for details)
Optional Extras
Edited Film with balanced audio, added instrumental music, titles and some photos – £125
Wooden personalised keepsake box with USB flash drive to store the film – £40.00 (discount on 3 or more, £33 each)
WEDDING LIVE STREAM AND PHOTOGRAPHY
** Ask us about our wedding live stream and photography options **
Wedding Party Highlights
The Old Regent Ballroom Stanford-le-Hope Essex
Vikki & Dave Wedding Highlights
Ye Olde Plough House, Upminster, Essex
Charlotte & Dan Wedding Highlights
Crondon Park, Stock, Essex
Samantha & Kieran Wedding Highlights
The Roslin Beach Hotel, Southend, Essex
Rebecca & Jacks Wedding Highlights
Ye Olde Plough House, Upminster, Essex
JUST PERFECT
My god! we're all in bits… pictures don't capture moments like a video does. We are so happy… and the love you've captured me and my dad is unspeakable
DANIELLE + BRADLEY
YOUR WEDDING LIVE STREAMING QUESTIONS
It's very possible you have some questions about your wedding live streaming by now, so we have put together some common questions we get asked to help you
Are you wedding live stream videos high definition?
Yes, we record and stream all our wedding films in HD which will playback lovely on a large TV. Most modern 4K televisions will upscale the film to 4K on playback and will also look great.
How do we let our family and friends know about our wedding live streaming event?
We send you a private link for your wedding live stream event ahead of time for you to distribute to your family and friends who wish to watch the live streaming event. We start the event 15 minutes before the wedding ceremony with a photo and music. This gives plenty of time for your viewers to connect and know they are seeing the image and receiving sound.
Do we get to see our wedding live stream video after the wedding?
Yes, we also record every live stream wedding service we do. If we are not doing the wedding live stream as an extra to your wedding videography, we will put your live stream film online around 24 hours after the wedding, this enables you to view, share and download the live stream recording.
What happens if the internet fails or is too weak?
We always check with the venue or church ahead to see what internet service they have and whats available for us to use. Firstly looking for a wired connection before wi-fi. In addition, we visit the location if we have not done a live streaming service there before to see what mobile wi-fi access is available.
As a backup, we have mobile phones and a dedicated 4G mobile wi-fi device which can be used to allow live streaming.
We record all live stream weddings as they are recorded, so in a worst-case scenario of losing the internet connection or its too weak to broadcast, we will get the recording online for you as fast as possible, we try to do this within a couple of hours maximum.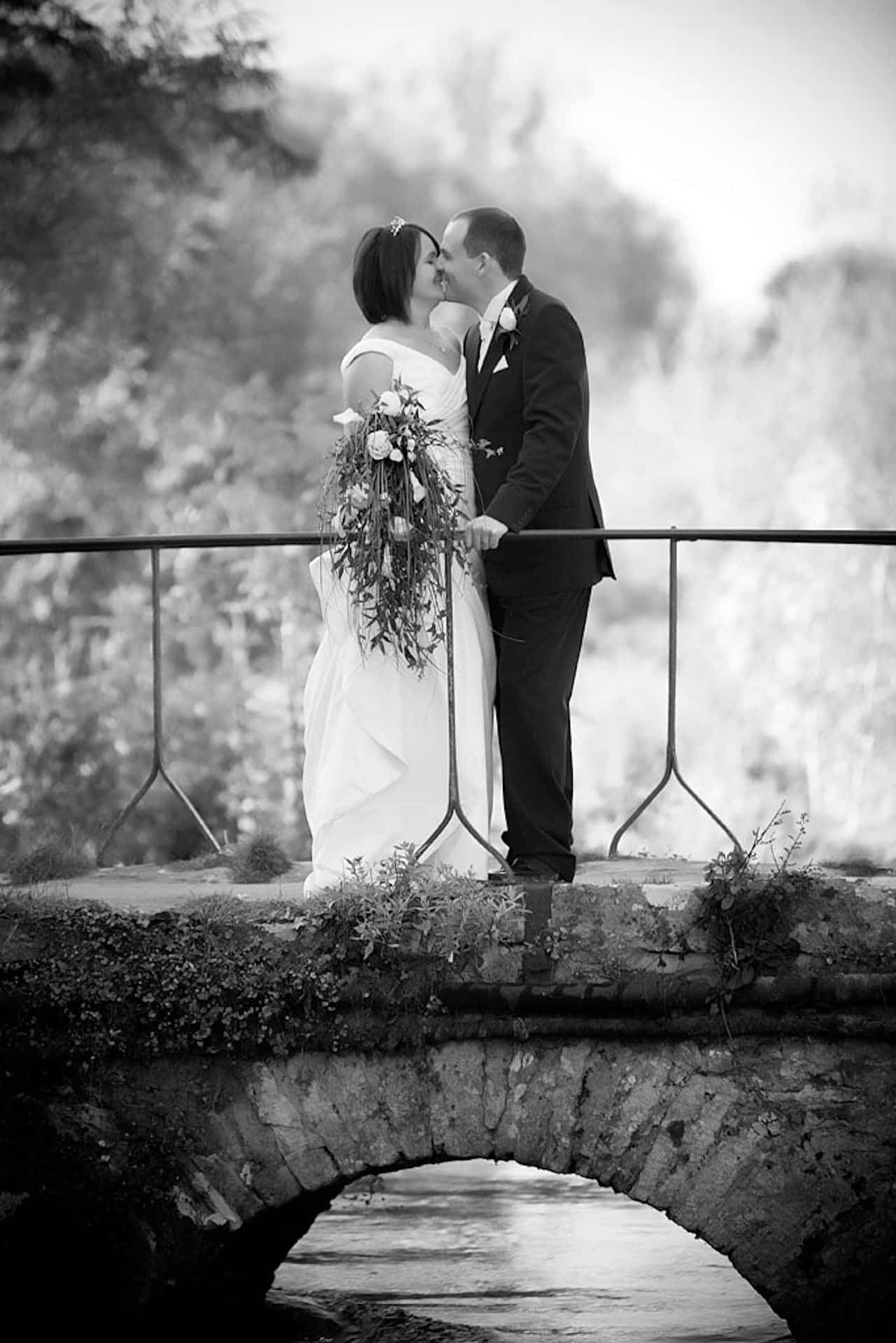 Wedding Live Streaming Enquiry
For professional wedding live streaming in Essex, London, Kent, Suffolk and the Southeast please get in touch via the contact form below or call us on
01268 666206
Essex Wedding Live Streaming
Wedding live streaming in Essex, London, Kent, Suffolk and the southeast. We also offer wedding videography
FIND US
Nick Bunton Studios
1 Lodgelands Close
Rayleigh
Essex
SS6 8TN