Nick Bunton is a memorial videographer who provides professional memorial live streaming and celebration of life live streaming in Cambridgeshire, Essex, Hertfordshire, Kent, London, Norfolk, Suffolk and the South East. Memorial live streaming become very popular during the COVID 19 pandemic. Live streaming is the perfect solution when any family members are unwell, living overseas or cannot attend in person for any reason.
Using our memorial live streaming service enables you to include all those who cannot physically attend the celebration of life service of a loved one with you.
I work in a very discreet style. My goal is to put anyone not able to attend the church or venue with great image and audio quality so they don't miss the final celebration.
LET US LIVE STREAM YOUR LOVED ONE'S MEMORIAL SERVICE
Nick Bunton Studios offer professional memorial live streaming in Essex, London, Kent, Suffolk and the whole of the SouthEast.
Now your friends and family who cannot attend in person can at least be with you virtually. 
With our live streaming service, we can broadcast your loved one's memorial service worldwide. We record our live streams on the latest cameras and by our highly experienced videography team. We also use broadcast quality microphones and wireless lapel microphones so every word is heard perfectly.
How Memorial Live Streaming Works
We use one or more cameras to live stream your loved one's memorial, it's also recorded as backup or should you wish to order an optional edited version. As well as the service being broadcast live, you'll be able to watch the memorial live stream recording, share it with family and friends and even download the recording to keep.
There are two main reasons why live streaming your loved one's memorial has become almost a necessary option. You may have family members or close friends who are unwell, live overseas and cannot travel. You may also have elderly relatives, who are still uneasy about the risk of social gatherings. Live streaming means your guests can virtually attend the memorial without risk to their health or the health of others.
We can stream to a multitude of platforms including, Vimeo, Facebook and YouTube. We provide you a private link with a password. You can then share the private link/password with friends and family long before the day of the memorial service. Virtual guests can also leave messages and condolences via a comments box if you would like that option enabled.
SHARE YOUR LOVED ONE'S MEMORIAL SERVICE
Invite all those unable to attend in person to join in the celebration of life service with you online.
Our Professional Live Stream Memorials Include
Single or multi-camera set-up
Broadcast quality wireless audio
Broadcast 4K cameras
Experienced creative videographers
Private viewing link in advance
No account or signup needed
Worldwide compatible
Unlimited virtual guests
Able to rewatch after the memorial service
Free download of the live-stream recording
Our Live Streaming Technology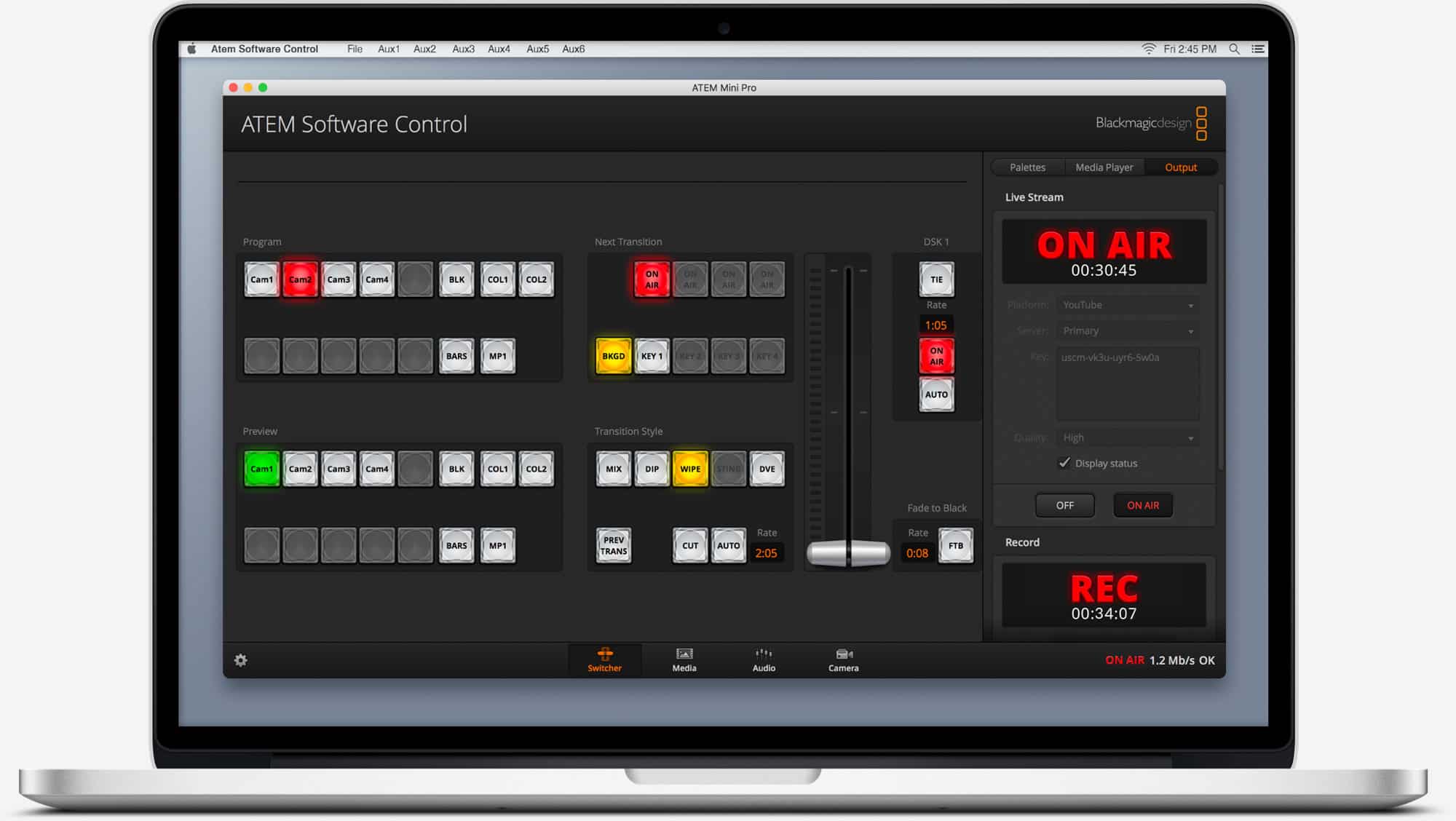 Multi Camera Switcher
We use the BlackMagicDesign Atem Mini Pro switcher which allows us to stream with up to four cameras or three cameras and a device for inputing graphics, slideshows or any other media content.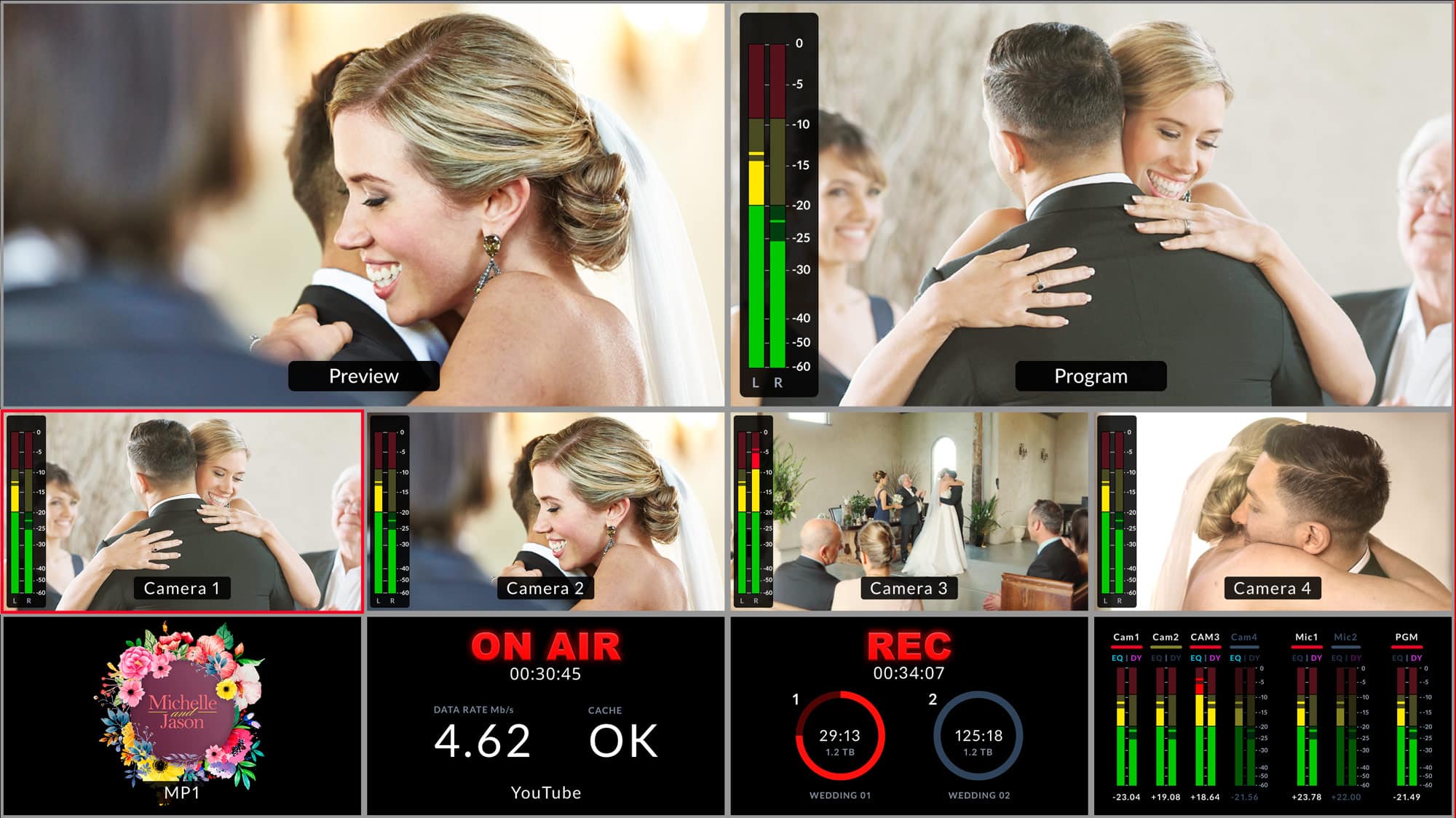 Multi View Monitor
This view gives us an instant overview of which input is being broadcast, what we have selected for the next view including a view from every connected device. We also can see the selected graphic, the upstream health and speed and an overview of the audio levels.
Audio Monitor
This view of the audio, not only allows us to see a full overview of what's happening but gives us so much control over the inputs, levels, mixing and EQ etc. This is such an important view as the audio is an extremely important element of video.
Rode Wireless Audio Kit
This is one of the audio kits we use to capture the clear digital words from the curate or anyone doing a reading or eulogy.
4G Network Bonding
Our LiveU Solo 4G bonded network modem/encoder is a very specialist part of our kit, in fact, its a small version of what mobile TV crews use. This is what allows us to live stream from remote locations were any single network doesn't have enough upload speed for video. This device makes use of four separate networks we use. Even with each being low, the data packets are sent into the cloud and encoded together in real-time to forward into our Vimeo live streaming service.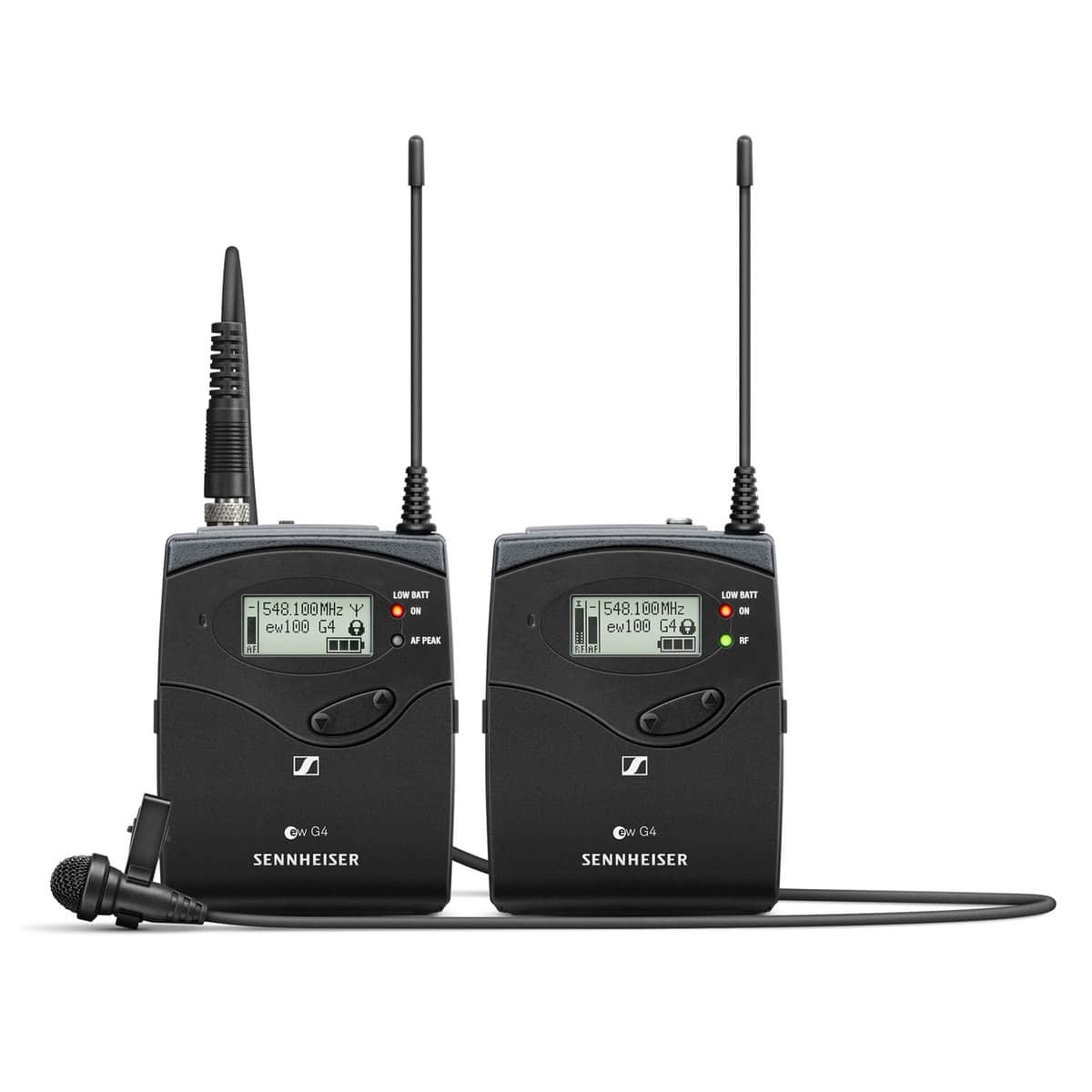 Sennheiser Wireless Audio Kit
Another one of the audio kits we use to capture the clear digital words from the curate or anyone doing a reading or eulogy. We need more than one as there is generally always a reading we need to capture the audio for.
MEMORIAL LIVE STREAMING PRICES
Single Setup Cost (A single location setup like the inside of a church)
From
£399
Optional Extras
Edited Film with colour and audio correction, added instrumental music, titles and family photos –
£125
Wooden personalised keepsake box with USB flash drive to store the film –
£40
(3 or more £35.00 each) Professional video slideshow created for the service and/or live stream – 
£75
 (for up to 60 photos) HD Projector and 100″ screen hire for video slideshow including setup –
£100
YOUR MEMORIAL LIVE STREAMING QUESTIONS
It's very possible you have some questions about our memorial live streaming by now, so we have put together some common questions we get asked to help you
Are you funeral live stream videos high definition?
Yes, we record and stream all our funeral films in high definition which provide a high quality video on devices up to a large TV. Most modern 4K televisions will upscale the film to 4K on playback and will also look great.
How do we let our family and friends know about our funeral live streaming event?
We send you a private link for your funeral live stream event ahead of time for you to share with your family and friends who wish to watch the live streaming event. We start the event up to 15 minutes before the funeral service. This gives plenty of time for your viewers to connect and know they are seeing the image and receiving audio.
Do we get to see the funeral live stream video after the funeral?
Yes, the live stream funeral service will be available for 28 days after the live streaming finishes to view online. If you chose to buy the extra edited recording, this will be available in about a week and will be available online for 12 months where you can download the video, if you also requested the keepsake box, then this edited version will come on a USB flash drive within the personalised keepsake box.
What happens if the internet fails or is too weak?
We always check with the church ahead to see what internet service they have and whats available for us to use. Firstly looking for a wired connection before wi-fi. In addition, we visit the church if we have not done a live streaming service there before to see what mobile wi-fi access is available.
As a backup, we have mobile phones and a dedicated boosted 4G mobile wi-fi device which can be used to allow us to do funeral live streaming.
We record all live stream funerals as they are recorded, so in a worst-case scenario of losing the internet connection or its too weak to broadcast, we will get the recording online for you as fast as possible, we try to do this within a couple of hours maximum, on doing this we would provide you with a private link to the video and it will be available online for seven days.
WE ONLY NEED TO LIVE STREAM THE BURIAL
We have been asked this before when the church already has a live stream service of its own. This is no problem, our kit can be run off of batteries we carry with us, so we can live-stream a burial service for you. The cost of a burial live stream is the same as listed above for a single location.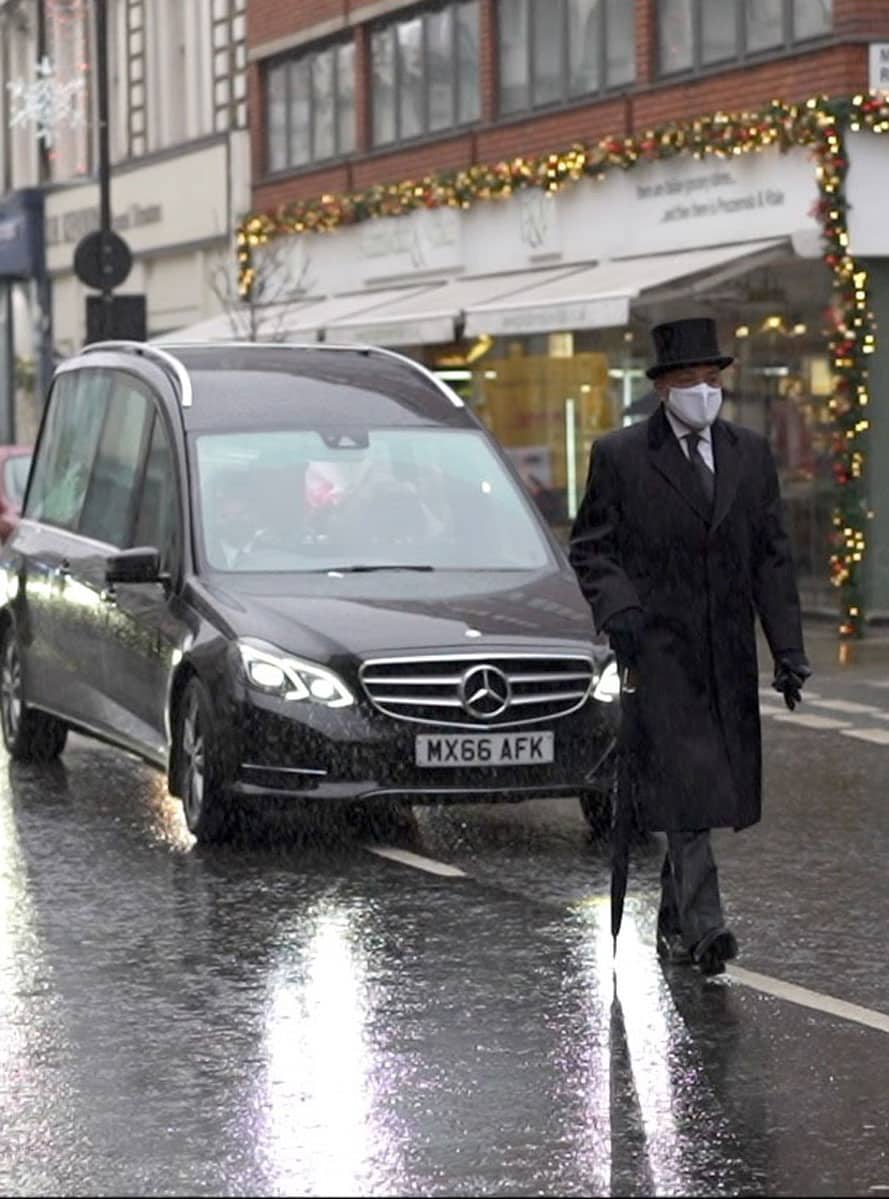 Memorial Live Streaming Enquiry
For professional memorial live streaming in Cambridgeshire, Essex, Hertfordshire, Kent, London, Norfolk, Suffolk and the South East please get in touch via the contact form below or book a call back using the button below.
Memorial Live Streaming & Memorial Webcasting
Memorial live streaming is available across Cambridgeshire, Essex, Hertfordshire, Kent, London, Norfolk, Suffolk and the South East.
FIND US
Nick Bunton Studios
1 Lodgelands Close
Rayleigh
Essex
SS6 8TN