Women's Beauty Portrait Photographer in Essex
Would you love an amazing full makeover photoshoot experience
We have now officially launched our new beauty portraits for women of all ages. This is a full hair and makeup makeover followed by a portrait photography session in a small selection of outfits you wish to wear and using a few different backgrounds.
My goal was to create an experience for a woman to be a supermodel for the day, this is not only fun, but I will capture photos of you looking so beautiful that you will fall in love with them.
If you would also like a couple of images captured towards the end of the session with your partner this is absolutely fine, bring them with you or they can join you for the last thirty minutes.
Let us talk about the experience!
When booking onto one of our makeover portrait sessions, we start with a pre-consultation, this enables us to get to know you a bit more, find out what you really want and to advise you on what to wear and expect.
On the day of the photoshoot, you will arrive at the studio without makeup and your hair natural. After putting the kettle on, we will take a 'before' photo of you as you arrived, this will be paired with one of the photos captured during the photo shoot, an example is shown below.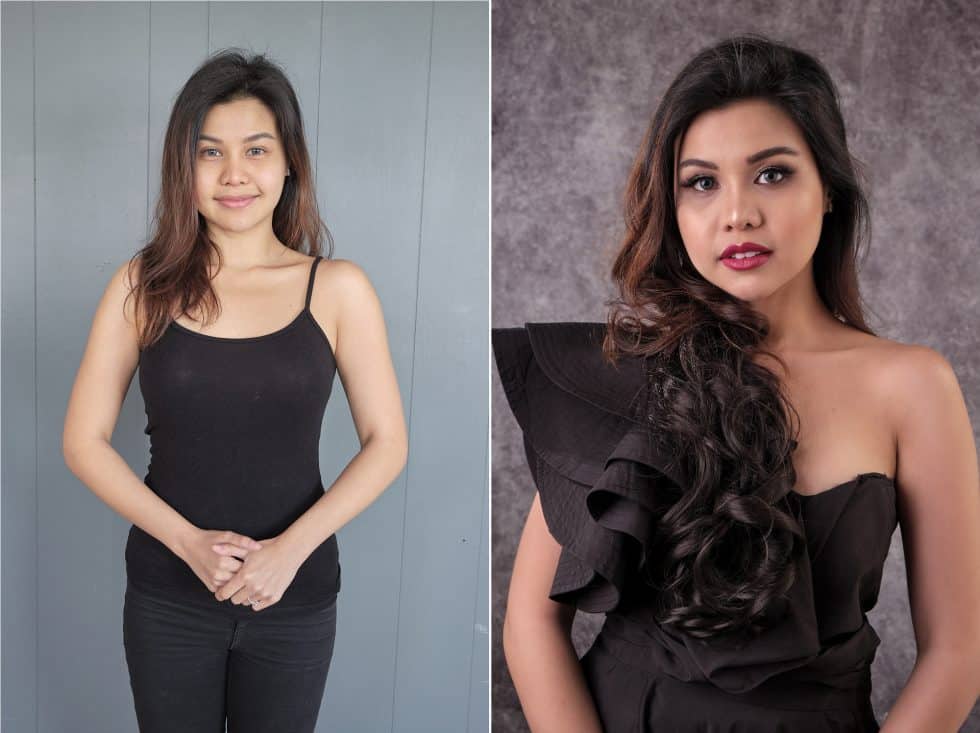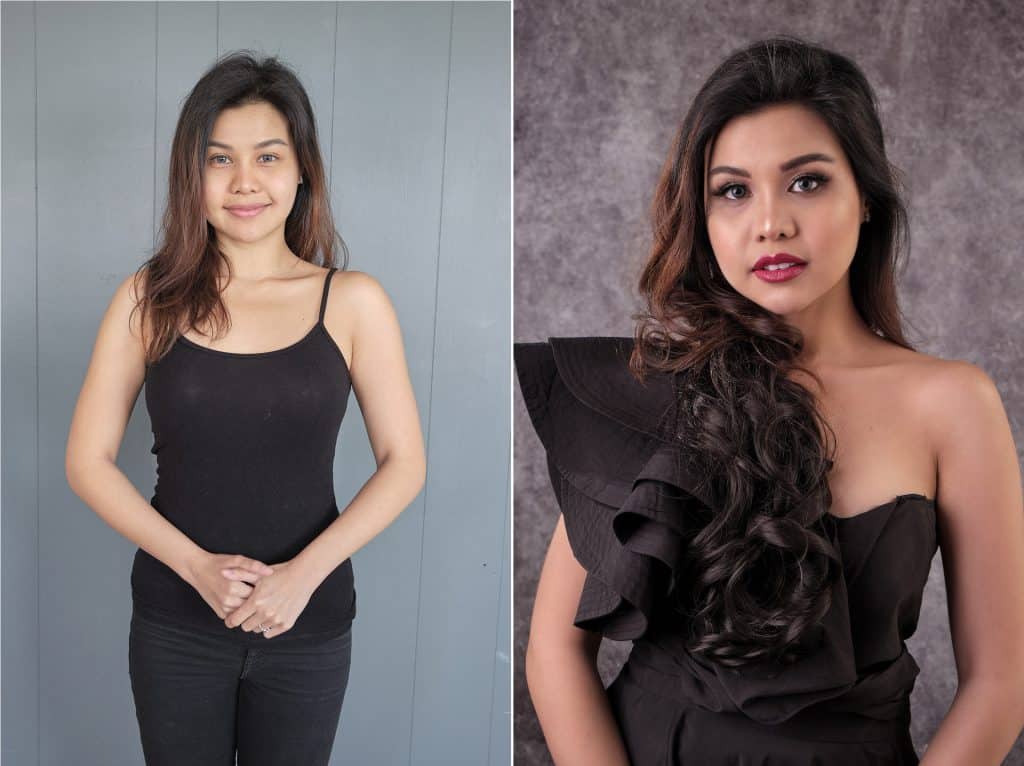 Next, you will take a seat and be pampered with a full makeup and hair makeover by one of our stylists, she will be with you for the duration of the photoshoot for any touchups or small changes as we go. Trust me you will enjoy this!
Once you are ready you will be asked to change into your first outfit, after this we can begin the photoshoot. You will be assisted with posing throughout, so you have absolutely nothing to worry about, just enjoy the experience.
About the portrait photographer
I am Nick Bunton and have been working since 2007 as a professional photographer capturing weddings, portraits and commercial photos. I am always looking for a new edge in my art when working as a photographer.
I live in South Benfleet Essex and have a small home studio or access to a bigger studio within 2 miles of my home. This allows me to be a portrait photographer who can also do larger groups both in the photo studio or out on location.
Behind the scenes video – The Experience
Take a look at this short behind the scenes video we captured, this will show you the whole experience from arrival to the end.
Want to try the experience?
Would you like to try the experience or treat a loved one to this great opportunity?
To book or for more information on our beauty portrait photo-shoots, please click here
I recently interviewed Ginny Bevan a wedding planner based in beautiful Lake Garda Italy who specialises in destination weddings Who is Ginny Bevan? Hi, Ginny, I am a Nick Bunton, a wedding videographer and photographer based in Essex UK. I love doing destination...
FIND US
Nick Bunton Studios
1 Lodgelands Close
Rayleigh
Essex
SS6 8TN